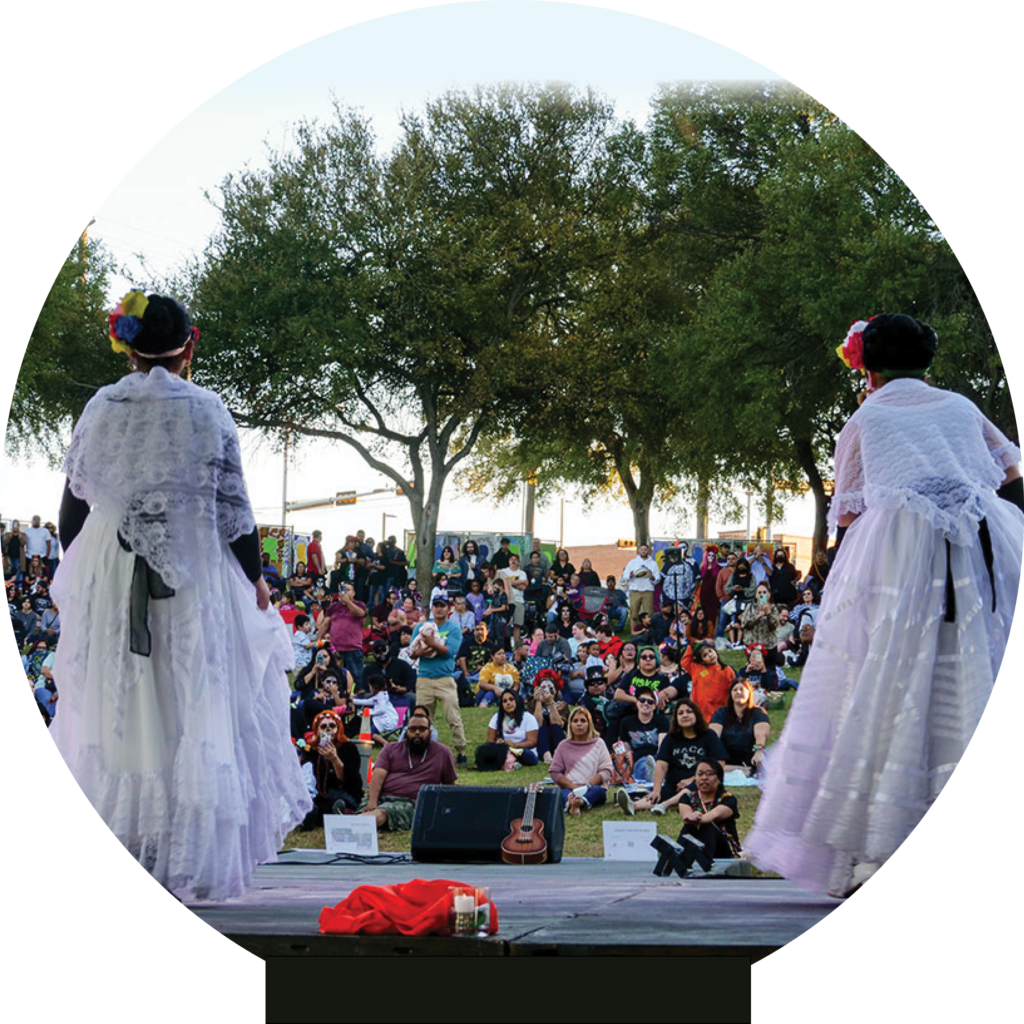 Creative Waco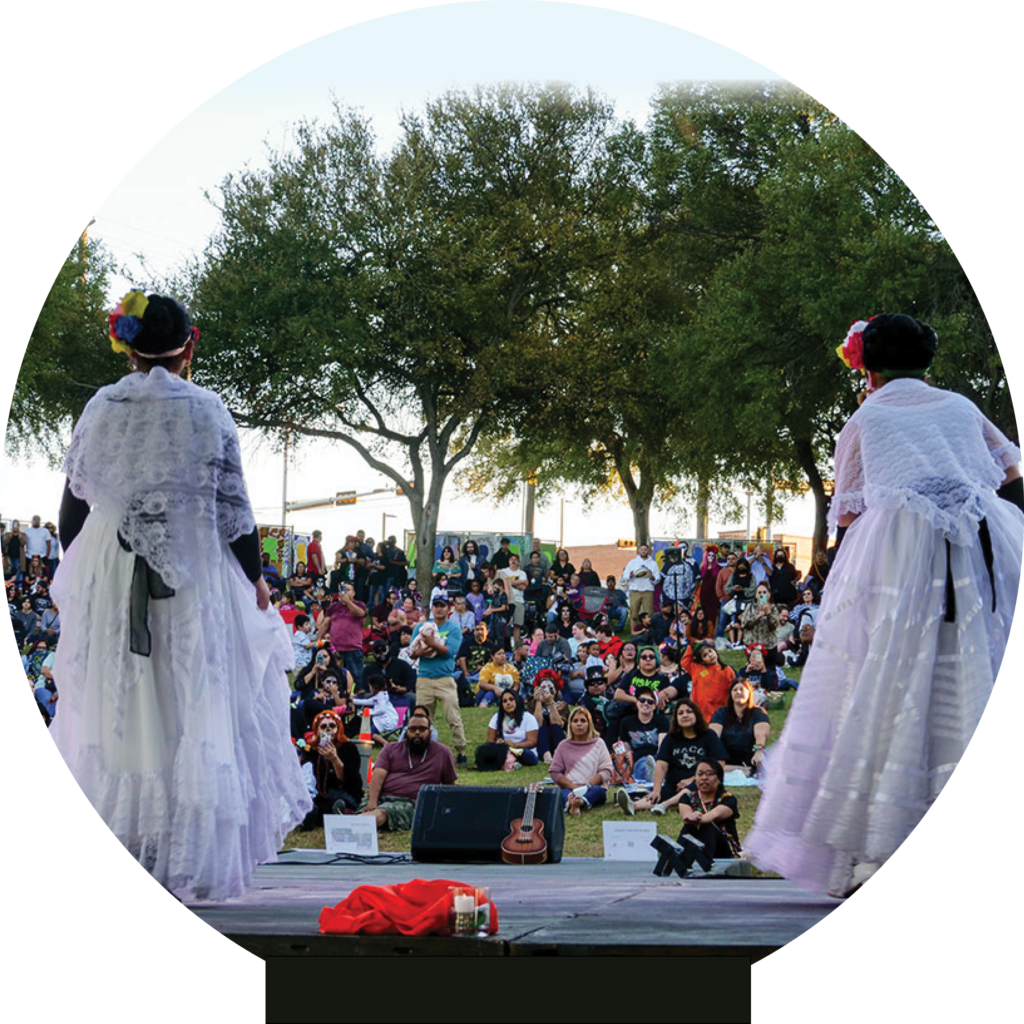 Creative Waco
Mission Statement
Creative Waco is the Local Arts Agency for Waco and McLennan County. Creative Waco exists to grow and support a thriving cultural and creative community in Waco and McLennan County, Texas.
Name of Public Space
Bridge Street Plaza
Website
Partners
Organization Overview
Creative Waco is the Local Arts Agency for Waco and McLennan County, TX. Since launching in 2015, we have led strategy, funding, and high impact initiatives to grow the arts, turning our community into a cultural hub where all artists can thrive.
Creative Waco has:
• Developed a strong Cultural Plan and active participation from stakeholders across arts, business, political, education, and community sectors
• Led successful campaigns for Waco to be designated a State of Texas Cultural District, Film Friendly City, and Music Friendly City
• Quintupled arts funding, expanded existing programs and launched new programs to support innovation and high impact in the arts
• Launched professional development networking, mentoring and coaching for diverse artists and arts leaders, winning national recognition for this work
• Partnered with Baylor Economics to gather and evaluate data showing economic and social impact of the arts
• Introduced equity, accessibility and community engagement to everything we do, increasing access for all to resources and experiences
• Developed a public art program that has installed $1 million permanent artworks by our river trails and throughout our downtown
• Launched "ARTPrenticeship" work readiness program that gives high school students opportunities to work with professional artists to manage and execute a creative project from concept to completion
• Worked with community partners to activate urban spaces with arts programming. Our last event attracted 24,000 people
Proposal Details
How will your town or city benefit from a Levitt AMP [Your City] Music Series and how will the series reflect the three main goals of Levitt AMP: 1) Amplify community pride and the city's unique character; 2) enrich lives through the power of free, live Music; 3) illustrate the importance of vibrant public Places?
The Levitt AMP Waco Music Series will allow us to plant a seed that has been an East Waco dream for years. The historically African American neighborhood was a safe and vibrant destination for the best of black music and entertainment for decades. It was an important stop on the Chitlin Circuit, and many stars—especially of gospel, blues, jazz, and opera performed in the venues that sprang up in this thriving neighborhood until it was devastated by a tornado in 1953 followed by urban decay.
This was the neighborhood that produced musical legends from Jules Bledsoe to Mercy D. Walton, Blind Lemon Jefferson, and Hi Five.
The community's vision now is for the newly built Bridge Street outdoor amphitheater to become a venue for the diverse musical genres that have been a core part of East Waco's identity, the energetic resurgence of music across genres (such as gospel, blues, zydeco, country, pop, hip hop, classical, and world), and to give a public-facing, freely available performance element to the world's top research facility on Black Gospel Music at Baylor University. We want to plant the seed for Waco to be identified as a "Gospel Music Capital" for a new generation. East Waco has been traditionally under-resourced in many aspects, including public cultural programming. In recent years this gap in programming has begun to be addressed, with the input and feedback of community members playing a key role in what is presented. This Levitt AMP Waco Music Series would allow the voices of East Waco—both figuratively and literally—to be heard. The types of music identified for the series will capture historic pride and future aspirations of a community excited about revitalization, but concerned about gentrification that could cause its cultural roots to be obscured.
Explain how the Levitt AMP [Your City] Music Series will play a role in enlivening the selected public space and surrounding areas.
A Levitt AMP concert series at Bridge Street Plaza will help to activate a brand new performance space that is a central part of $12M in improvements recently made to an area of the Waco Downtown Cultural District that has previously been under-resourced. COVID has delayed the construction of private developments adjacent to the site, and a concert series beginning in spring 2023, would be timed perfectly with the completion of these projects.
There is already a strong and committed community consultation infrastructure that has informed the revitalization preferences for Bridge Street. It leveraged an active neighborhood association, a grassroots engagement group, and residents who are vocal about their concerns desiring revitalization without gentrification. This group met for over a year during the development of the Bridge Street Plaza concept, and subsequently partnered with Creative Waco on two nearby mural projects. This group can be engaged again to develop the music series, ensuring that the variety of offerings appeal to a wide range of community members.
Thanks for voting. Online public voting is closed!