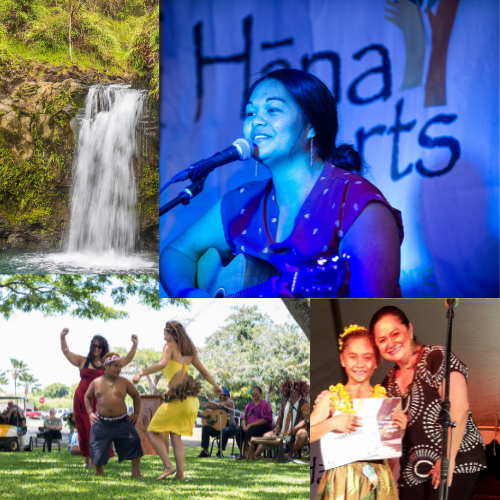 Hana Arts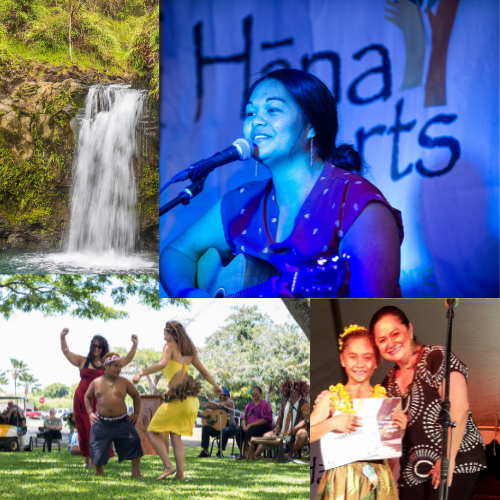 Hana Arts
Mission Statement
Hāna Arts provides Art & Cultural education and both life-enhancing and income-generating opportunities for all East Maui keiki to kupuna through youth, individual and family programs including classroom teaching, workshops and events that help stimulate and broaden our community's potential.
Name of Public Space
Grass lot below Hana Ranch Restaurant
Website
Organization Overview
Hāna Arts began providing visual art and crafts classes for Hāna children in 1991. We built on this, expanding our programs under the umbrella of the Hāna Youth Center, and then Hāna Cultural Center. By the time we incorporated in 1998, we were offering classes in dance, Hawaiian and world cultures, theatre, visual arts and music to both children and adults.
Hāna Arts is the prevalent facilitator of Art activity in Hāna/East Maui. We collaborate with many local agencies that serve our youth and their families, as well as local schools, universities and other larger art agencies within the Hawaiian islands and beyond.
The Hāna/East Maui geographical area we serve, from Ke'anae to Kaupo, consists of a 30-mile radius coastal community isolated by its geographical boundaries, rural lifestyle and difficult mountain terrain. We support the creative processes of these very special residents, and strive to create opportunities for them to reach their full potential.
Proposal Details
How will your town or city benefit from a Levitt AMP [Your City] Music Series and how will the series reflect the three main goals of Levitt AMP: 1) Amplify community pride and the city's unique character; 2) enrich lives through the power of free, live Music; 3) illustrate the importance of vibrant public Places?
The Hāna/East Maui geographical area we serve consists of the 30-mile radius coastal community from Ke′anae to Kaupō isolated by its geographical boundaries, rural lifestyle & difficult mountain terrain; not unlike a separate island. Our rural population of farmers, fishermen and local trades' people includes roughly 1,900 permanent residents. Currently, there are 400 students registered with Hāna School, plus a dozen home-schooled, 75% of whom are of Hawaiian ancestry and most (77%) qualify for lunch subsidies, a further indication of the deprivation within our community. Hana Arts provides engaging events and performance opportunities to the entire 188 elementary students (including preschool) and 212 secondary school students enrolled.
Hana Arts strives to provide opportunity and enrich the community of East Maui through Arts and Cultural events and performances. We host quality musicians and artists from near and far to produce thought-provoking performances that would be otherwise unattainable to our rural population. These programs bring together people of all ages, classes and backgrounds through exciting and unique events that educate and inspire. Hana Arts Presents! is a unique program that brings people together in a positive and uplifting way through creativity and culture.
As Tourism is our main industry with the famed Hana Highway attracting over a million tourists a year, these concert events provide an economic opportunity in generating more guests who stay longer and spend more. Creating regular and consistent events will channel the sometimes overwhelming tourism influx into a a single set of events that focus the patrons in a centrally located space where locals and tourists can engage in a welcomed way.
We have hosted many award-winning musicians and bands who come and share their gifts to the community including Kris Fuchigami, Ian O'Sullivan, Maui Classical Music, Kuana Torres Kahele, Mark Yamanaka, Kupaoa, and many others. Among the dance performances, we have hosted the San Francisco Belly Dance Troupe, Fua Dia Congo, MAPA, Kumu Micah Kamohoali'i and Halau, Poerava Ori Nui, and many others. We have brought drama performances such as Moses Goods, Hawai'i Opera Theatre, MAPA, Tom Lee's Shank's Mare, and more.
We host our annual Talent Show as part of the Festivals of Aloha-Hana Week where cash prizes and celebrity judges promote the talents of Hana community and those that visit here (October); Community Christmas Show and May Ho'olaule'a, our bi-annual showcase of student and community performances (December & May).
Programs occurs all year. Performance events have brought together audiences of up to 1,000 and spark conversations/ideas of locals who are limited in opportunity due to the rural nature of the area, as well as visitors from all around the world.
Hana Arts Presents! is a unique program that offers arts and culture, economic stimulation, diverse employment opportunity and community development. This offers a platform for healthy tourism where locals and visitors can come together in mutual benefit.
Explain how the Levitt AMP [Your City] Music Series will play a role in enlivening the selected public space and surrounding areas.
Centrally located in the heart of Hana Town, this space is beautiful, bright and sunny, with an ocean view. The space is regularly underused. In 2020, the Hana Farmers Market began hosting weekly markets and at first drew up to 30 vendors each week. However, the numbers have dwindled after the subsidies form the County died down. Holding on to a select group of regulars, the market is a wonderful platform to decrease plastics, support local economy, and enrich the minds and bodies of our community. The management is looking for new ways to bring more community members back to the market by partnering with other nonprofits who do such giveaways as school supplies, COVID PPE, veterinarian/pet supplies, etc.
Creating a live music opportunity will attract more people to the market, increase time spent at the market, encourage family connection and community conversations:
1.  Hana Arts Presents! is a unique program that focuses on bringing together the community and visitors of East Maui through celebration of cherished Arts and Culture Workshops and Events. Workshops can improve the knowledge and skill base of aspiring artists, offering creative outlets to locals, while also providing a platform for economic stimulus, networking and communication with our guests. Guests have the opportunity to learn and create with locals and immerse themselves in positive cultural engagement.
2.  The program supports economic activity on several levels:  the workshops can raise the skill level of artists who choose to sell their art for income; the events can promote local businesses by offering a venue to sell goods, food, and also attract visitors to increase stay in Hana.
3.  This program can support Maui's brand identity by providing "captivating" entertainment that showcase professional artists in unique & attractive ways.
4.  Facilitating quality workshops and events, this program offers a variety of valuable activities that foster friendly interaction between locals & visitors.
5.  Provides unique activities, volunteer opportunities, and friendly interaction between locals and tourists during shoulder periods such as our Talent Show in October, May Ho'olaule'a in May, and much more.
Thanks for voting. Online public voting is closed!