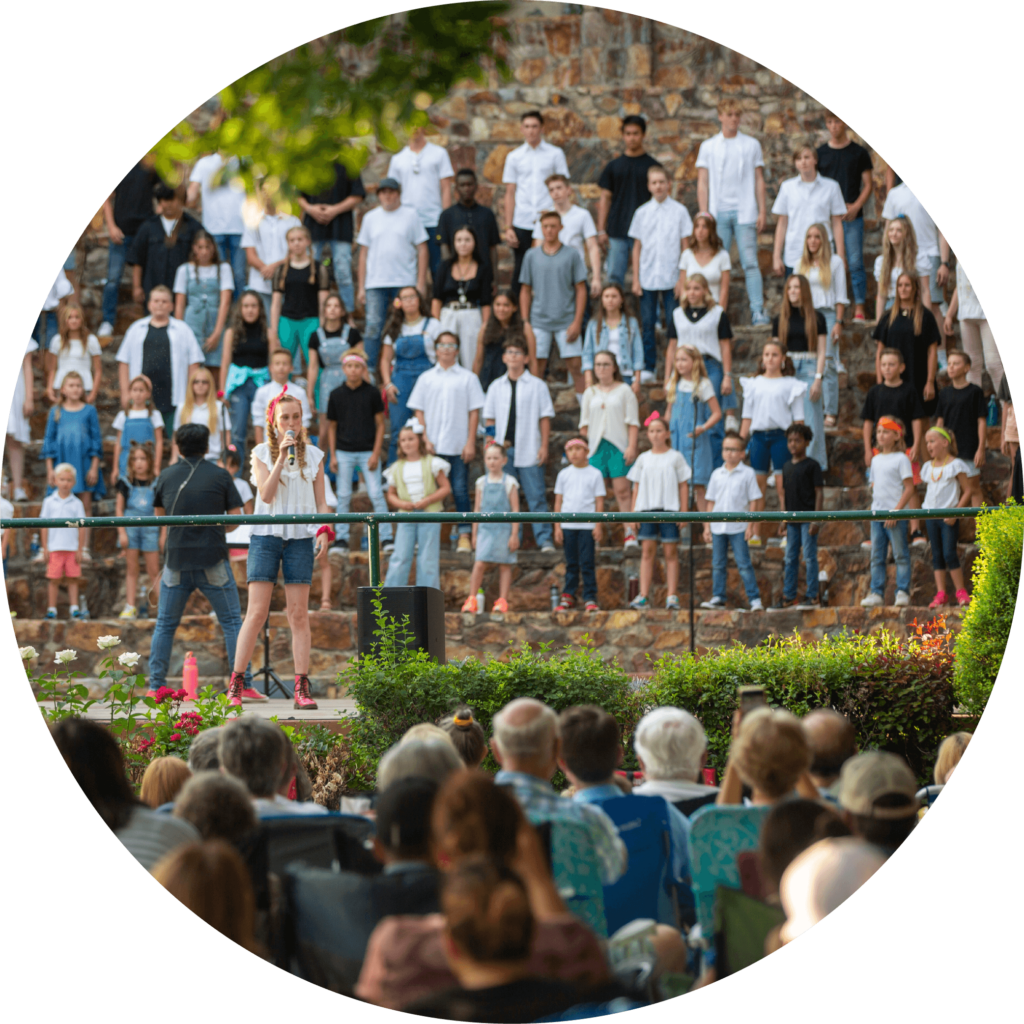 Harrington Center for the Arts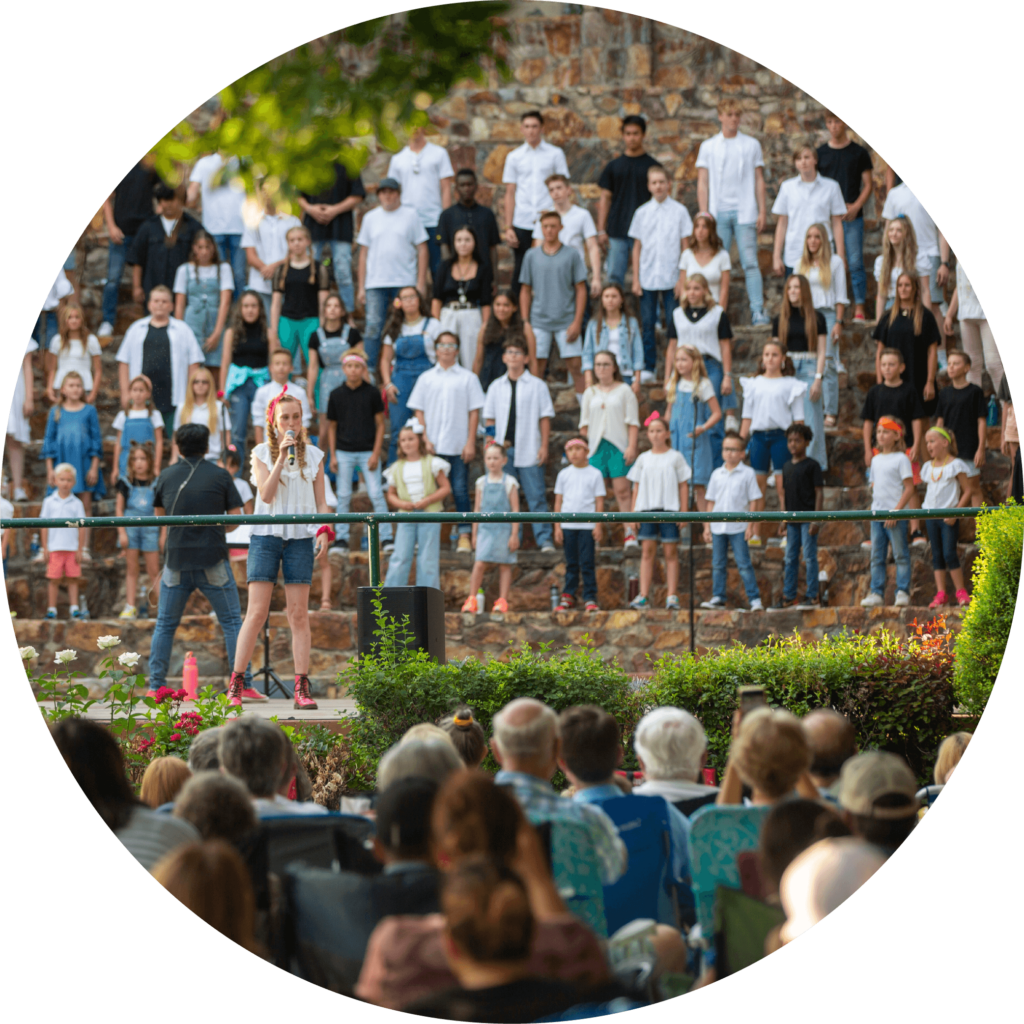 Harrington Center for the Arts
Mission Statement
Harrington Center for the Arts (HCA) promotes creativity and learning by supporting the arts in education, performance, and opportunities that uplift individuals, families, and our community and inspire meaningful human connection. As a nonprofit 501(c)3 organization since 2017, HCA provides arts education and professional mentorship across all creative disciplines, and engages our community through high-quality festivals, performances, and art exhibits.
Name of Public Space
American Fork Amphitheater at Quail Cove
City, State
American Fork, UT
Website
Organization Overview
Based in American Fork, Utah, HCA stands as a leader in arts education and performance in Utah County. In 2021, HCA reached over 16,000 arts patrons, supported 840 artists through performance and education, and engaged over 200 community volunteers. Our organization also works to preserve and renovate American Fork's historic Harrington School, and to reimagine this 1903 built landmark as a permanent community home for the arts in northern Utah County. In all our endeavors, HCA prioritizes making art accessible to all by reducing social and economic barriers for arts audiences and by supporting aspiring and professional local artists. HCA's program accomplishments include the continued success of our Fork Fest Music Festival and our free Concerts in the Park series, each of which bring thousands of patrons to American Fork parks in summer to enjoy homegrown and national musical talent. In 2021, our Chalk It Up chalk art festival and "The Walls" public mural exhibit provided free arts experiences for 7,000 visitors while supporting 145 rising artists from our community. In addition to public arts programming, HCA also offers arts education and career development programs such as Exploration of New Works, which helps aspiring local playwrights take their works from the page to the stage, and our Empowering Women in the Arts Mentorship Program, which connects young female artists from our community with qualified professional mentors for technical training and networking.
Proposal Details
How will your town or city benefit from a Levitt AMP [Your City] Music Series and how will the series reflect the three main goals of Levitt AMP: 1) Amplify community pride and the city's unique character; 2) enrich lives through the power of free, live Music; 3) illustrate the importance of vibrant public Places?
The Concerts in the Park program comprises a key component of our community arts mission–supporting accessible, free, and high-caliber arts experiences which beautify our community and foster civic pride and engagement. HCA's mission directly overlaps with the Levitt AMP Program's goals to amplify civic pride, enrich lives through art, and create vibrant public spaces. This Levitt matching grant will allow HCA to take our existing Concerts in the Park series, which already brings American Fork residents from across the social spectrum together for quality, family-friendly musical performances for five weeks every summer, and by doubling the existing series length and allowing us to book more national and regional touring acts, make the concert series a true draw from across our wider northern Utah County community. Many of our surrounding towns have curtailed or dropped cultural programming over the course of the pandemic, even as our area's population continues to grow rapidly. The Concerts in the Park series has long been a draw for American Fork locals, but expanding the series can make it a truly important arts event throughout our broader community. The revitalization of American Fork is a core piece of HCA's mission–one of our major long term programs works to renovate and reimagine the historic 1903 Harrington School in downtown American Fork as a community arts center. Raising the profile of civic arts opportunities like the Concerts in the Park series helps further HCA's ultimate goal; to establish American Fork as a regional arts hub, a cultural center which draws patrons from throughout our own and neighboring towns. Our goal is to let everyone in our community know that they can experience professional performances and arts education in their own backyard, and to help our area foster a sense that quality art is something that's part of everyday life, not something that requires a trip out of town.
Explain how the Levitt AMP [Your City] Music Series will play a role in enlivening the selected public space and surrounding areas.
The Levitt AMP program presents a prime opportunity to bring residents from surrounding areas to the American Fork Amphitheater at Quail Cove, an underappreciated civic gem. Originally built by the WPA in the 1930s for the Utah State Training School for the Disabled, this native stone amphitheater and landscaped green space are a historical American Fork landmark, now converted to a city park. While the amphitheater has long been a well-known location for American Fork locals, it remains underutilized as a connecting space for our wider community. Quail Cove's location makes it readily accessible to the entirety of northern Utah County: the city centers of Alpine, American Fork, Cedar Hills, Highland, Lehi, and Pleasant Grove are all within five miles of the park, and the park sits just off the major north-south thoroughfare which connects Pleasant Grove, American Fork, Cedar Hills and Alpine. This centrality, combined with the venue's historic character and scenic beauty, make Quail Cove an ideal location to provide what Northern Utah County sorely lacks—an artistic center of gravity. Our immediate area consists of six towns which have been effectively joined into a demographic whole as their populations have grown, but largely lack a cohesive civic identity. Highlighting historic venues like Quail Cove helps connect our young, expanding population to the history of our area, too often erased and homogenized by rapid suburbanization.
Thanks for voting. Online public voting is closed!